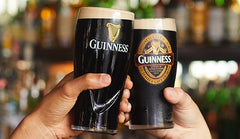 As one of the most popular beers in the UK we though you should know a little bit more about your pint of Guinness!
Guinness has been around for over 260 years and has always been a brand to give back to the people as one of the very first companies to offer employee benefits which consisted of free health care and two free pints after every shift. They also promised all British WWII soldiers a beer on Christmas day.
Guinness aren't just responsible for beer, they produce the Guinness World Record book. It was invented to stop drunk arguments in the pub where people would disagree on trivial knowledge, the managing director of Guinness had an argument of his own and had no way of proving he was right which prompted the need for a book to put these disputes to rest. He teamed up with a fact finding agency in London and got to writing the Guinness World Record book. This then had to be revised every year to ensure their facts were up to date and even in 2021 this book is still published annually.
Their beer is brewed in 49 countries and served in more than 150. In addition to Ireland, Guinness also owns breweries in Malaysia, Nigeria, Ghana, and Cameroon - 40% of its consumers are in Africa. All of the ingredients are sourced locally, except for one: the Guinness extract, a secret mixture that is added to a Guinness brewed anywhere in the world. It takes 119.5 seconds to pour the perfect pint of Guinness, and now it's vegan too so everyone can enjoy it.

For all these reasons and so many more, we are proud to stock Guinness on our site which you can shop now.