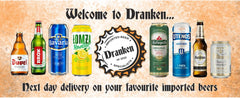 Let us introduce ourselves...


We are Dranken...Dutch for drinks!


A UK based beer distributor company specialising in imported beer. We've been working with alcohol for 30 years, learning and evolving with the industry and becoming more educated in the changing climate. Being in the industry for some time, we began to identify a need for imported beer all the while offering a high level of customer service, a quick and efficient delivery service and generally no fuss. This 'gap in the market' was how Dranken was born. We want to combine all the things you need for a stress free beer shop online so you can purchase beer from the comfort of your own home and have your beloved beers the very next day.


We have built Dranken as a way for you to access your favourite imported beers as well as a more specialty range. Enjoy quality drinks with your family and friends from us, we want to offer you that beer that you fell in love with on holiday and to help you try something new, browse the big selection we have on offer. If you really enjoyed a beer on your travels let us know and we can try to find it for you.


We have this blog feature on Dranken as a way to share beer related news, beer history, technical details, food and beer pairings and a lot more.

Check back for more posts and more beer!


Thanks for stopping by www.dranken.co.uk